These Heroes episodes never fail to prosper four corners worth of kickback on the daily, from bloggers, adult beverage pals and even the unlikeliest of readers. My life is an ensemble of interesting peeps delivering up interesting comments- be they a sugary yea, a disgruntled nay or a curious hey. And as I've said before, 'y'all  make the Heroes posts worth it. Alls I do is serve 'em up, and I am plenty fine with that. Just as I am plenty fine with the decision not to mention Trump in my Friday round table anymore. Because it's too easy, and I'm easy enough as it is.
And now, let's get to some of the peeps with keeps . . .
All the Washington Nationals had to do was say goodbye to Bryce Harper in order to get to the World Series? It's been eighty six years since a baseball team from Washington made it to the Fall Classic. The last time it happened, the Washington Senators lost to the New York Giants in five games. FDR was President, gas was eighteen cents a gallon and Nosferatu, I mean . .Wolf Blitzer had just celebrated his 100th birthday.
As for the team the Nationals will play next week? Welp, my Yankees might have fucked up their chance by not throwing down the dagger in Game 2 of the ALCS. Which allowed Carlos Correa to make my Heroes list two weeks running after delivering on a home run promise to 16 year old Jalen Garcia, who is battling osteosarcoma, a type of bone cancer. I find the Astros to be highly fucking annoying, seeing as how they seem to have the Yankees number in October. But I simply cannot hold anything against Carlos, you understand.
As for as those fellas in the Association are concerned, I'm not feeling quite so buttercup about my privy. LeBron James became the first NBA player to speak about the Daryl Morey tweet heard 'round the world by saying the Houston Rockets GM was diving in the deep end on matters outside his pay grade. Which sounds disturbingly similar to what Laura Ingraham once said about LeBron in her infamous "shut up and dribble" rant. I wish LBJ would've just said something like Hey peeps, I ain't down with losing the ten percent China is bounce passing our way. At least admit it's about the money.
The Cherry Hill School District has its mind on the money and its money on their minds. Because they decided to punish kids with lunch debt by excluding them from certain after school activities and class trips. These kids also would face restrictions as to what they could order up at lunch time. And for the high school seniors, well . . don't bother with your prom plans if your lunch debt has you $75 in the hole, because you might not be allowed to attend anyways. Go Team Spirit!
Big props to the Salt Lake County Sheriff's Department for coming to the rescue of a 3 year old mastiff named Floyd. The boy was out on a hike with his owner when he became fatigued and couldn't walk any further. So a search and rescue team went and got him, scaling the two mile climb Floyd and his owner had made and bringing him down in a four hour rescue operation. Floyd is doing just fine now, and hopefully his owner is switching to Verizon. (Editor's Note: Verizon ain't my carrier).
College football is a religion in the South, but one Alabama student took his psalm reading a little too seriously last weekend. Connor Bruce Croll called in a threat to LSU's Tiger Stadium during a game between the LSU Tigers and Florida Gators. We're still not sure as to the specifics of the threat or Croll's endgame, but it's obvious he ain't aware of the legal ramifications that arise when you don't separate your church business and the state's business. Which means he probably made his fraternity.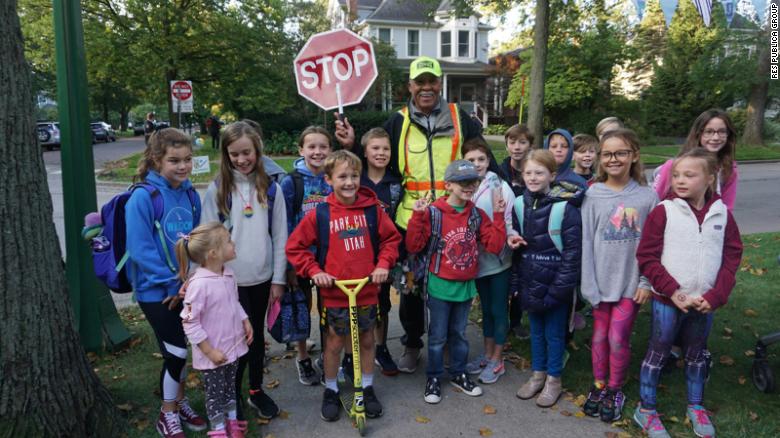 Alec Childress is the great grandson of a slave. When he was fourteen years old, his father left their Mississippi cotton farm to look for work up North, leaving his son in charge. Later on, when his family joined his father, Alec had to go to work as a dishwasher in order to pay for his schooling.
Alec learned the value of hard work and a positive attitude from an early age; a mindset that served him well in his thirty six years of working construction. And just twenty eight days into his retirement, Alec decided he didn't feel like sitting around at home so he took a job as a crossing guard in Wilmette, Illinois
For the last fourteen years, Childress has been dealing up stories and smiles to go along with his trademark "Peace, I gotcha!". He has come to own the corner of 9th Street and Lake Avenue, turning an intersection into the heart and soul of a neighborhood.
And so for his eightieth birthday, the neighborhood said thank you by throwing him a surprise party. Yard signs greeted him with "Peace, we gotcha!" and students who had moved on to middle school and high school returned to take part in the festivities. One girl who was off to London for college made it a point to stop by to wish her favorite crossing guard a happy birthday as well. In all, more than a hundred people showed up with cookies and gifts, and plenty of hugs.
"For me to be able to experience that kind of love tells me we have more good in the world than the bad," Childress said. "It reaffirms my knowledge and belief in people."
Well, he started it.