On my old blog, I used to dish up an annoyances post. It was a Molotov cocktail of inelegance aimed at all the many things that tend to piss me off. And if you didn't know better, you'd have thought I was some kind of misanthrope who had an issue with every single thing. And you'd have been half right.
For this rebooted "Annoyances", the sunny side of the street gets the primo parking space. Because my therapist thought it was a good idea if I stress the positives and minimize the negatives. Here then, is the pilot episode of something I'd liked to call "Plus vs Minus".
Plus- Homemade Mac and Cheese takes some time, and more butter than I'm comfortable admitting, but it's so damned worth it. I do mine up with butter (never margarine), milk, heavy cream, cheddar and one other cheese (I used Jarlsberg this time). To make the roux, you need to grate your cheeses . . . no shortcuts. I top it off with thinly sliced tomatoes and then sprinkle bread crumbs dredged in olive oil and grated Parmesan on top of that.

Minus- As much as I dig it, I have to steer clear of boxed mac and cheese for a good month after partaking of the real stuff.
Plus- Peloton Mamas with Ryan Reynolds riding shotgun. 

Minus– Peloton Mamas riding solo.
Plus- Adult beverages.

Minus- Bud Light Seltzer. Because they didn't fuck up beer enough.
Plus- The movie Cats. I went to see it with the girl and we loved it. It's the musical and okay, it goes heavy on the CGI, but this did nothing to detract from the fact that it's the musical delivered up in theater format.

Minus– Not sure what the peeps who bashed this movie were smoking. Because did I mention it was the musical?
Plus- Trump's impeachment defense ain't gonna be a cakewalk with the revelation that he was freezing military aid to the Ukraine.

Minus- He's probably gonna get off the hook anyway.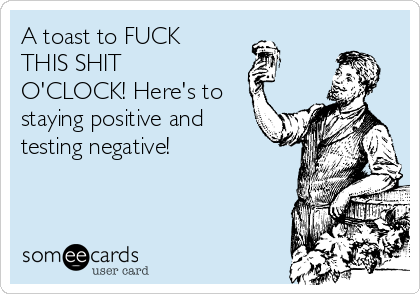 Plus- Christmas movies. It's the only time of the year when I'll suffer Chevy Chase in those inane Vacation flicks, or Jamie Lee Curtis in a cardigan, or Vince Vaughn . . . at all. And this year brought a reboot of one of my favorite holiday movies ever- A Christmas Carol, which I thoroughly enjoyed.

Minus- Hallmark Christmas movies. If you've seen the one with the big city exec who goes home for the holidays and falls in love with an old flame . . you've seen them all.
Plus- The Miami Dolphins just had the most enjoyable 5-11 season ever. And they wrapped it in a bow by taking down the Patriots in the season finale; denying New England a first round bye for the first time in ten seasons.

Minus- The Patriots are still alive. And just like Michael Myers . . you gotta kill them, and then you gotta keep killing them . . just in case.
Welp, that's just about a wrap for the 2010's. May your pluses be plentiful and your minuses minimal inside the new year.
Peace and love . . .