So this new old fashioned way of doing Heroes, it works so well that I feel as if the very idea of incorporating a buzzkill into the proceedings is anathema. Now. But I must confess it took me a while to get to here, and I trashed a ton of James Dolan stories in the process. Sooooo, it turns out that using this WP force for good rather than evil has cut down on redundancy by twenty eight percent!
And now your heroes . . .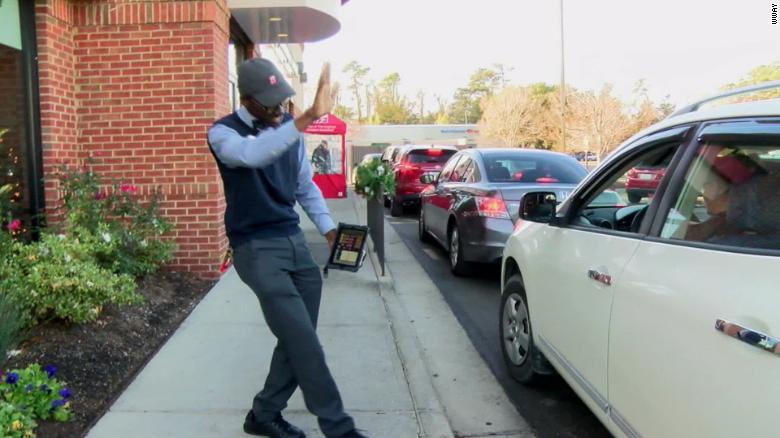 This kid got left in my green room for a couple weeks, but that's alright because he's still doing his thing and making people's days just a little bit better. Jeremiah Murrill goes to work every day, doing the thing he was born to do; connecting with people. He is the official drive-thru greeter at a Wilmington, North Carolina Chick-fil-A, and to his way of thinking, there are no numbers . . . only people. Over the last couple years, the twenty year old has learned the names and favorite meals of the thousands of customers that roll on through. Not to mention the fact he's been deputized and video of him making someone's day has gone viral as well. Leaping tall buildings and out-locoing locomotives is all well and good, but sometimes heroism comes in the prosperity you gift others with a quaint little thing called human kindness.
Charles Barkley was the 'Round Mound of Rebound' in his playing days, and he has been the mouth that roars as a sports commentator since then. But in his personal life, he refrains from all that high profile jazz. Charles is a philanthropist who recently made a one million dollar donation to Miles College; the largest donation in the school's 122 year history. He has made it his mission to donate to historically black colleges and universities since his playing days came to an end. And it's not something you hear much about, because Charles is content to put his money where his mouth usually is.
Until recently, Latonya Young was trying to keep her dream of scoring a college degree alive- working as hairstylist by day and Uber driver by night. A high school dropout, the forty three year old was determined to not just get back, but to get ahead. But times are tough and an outstanding seven hundred dollar balance was proving even tougher. Until Kevin Esch stepped into her Uber one night and changed that. When he learned that Young wasn't returning to school because she owed that money? Yep, he paid it. This past December, Latonya graduated with an associate degree in criminal justice. Kevin was in the audience, cheering her on.
To Molly, a two year old Labrador Retriever, life really is a beach. And since she was nine weeks old, this beautiful lady has been making certain that her beach in Scarborough, North Yorkshire is a clean one. Her dog mama, Fliss Cater, combs the beach with Molly on the daily to lose all the litter they come across.
"I taught her different commands to keep her safe, because there'll be things on the beach that could harm her," says Cater. "There are needles and sharp objects or just things you wouldn't expect, so I wouldn't let her go and pick anything up on her own."
Except for the sense to know right from wrong, and the ability to do something about it.
Firstly comes a hat tip to the lovely Dale over at A Dalectable Life for this capper. . . .
Linda Herring of Johnson County, Iowa is a Guiness Book of World Records superstar. Even if you'll never read of her accomplishments in this year's edition, or last year's . . or the year before that. Because what Herring does so very well, it doesn't tend to make the kind of headlines that OBJ gets just for handing out cash. Even though, what Herring does would make Wonder Woman have to take a year long holiday in some remote locale that specializes in sun and sand.
This mother of eight (five biological as well as three adopted kids) has been a foster mother for more than five decades. She did all that on top of running a home daycare and working nights as a custodian. And because I need you to try and wrap your head around this, because I still haven't . . . she has fostered more than six hundred children over the last five decades. Tell me when you've caught your breath and I'll continue.
"Linda mostly fostered young children and children with special medical needs and kept bins of clothes in her garage, stacked to the ceiling, labeled by size and gender," read a statement from Johnson County officials. "No one had to worry about a child going without clothes at Linda's, even if they arrived with nothing but what they were wearing."
Health concerns led to her decision to step away from her role as a foster mother in October. To honor Herring for an amazing life's work, the Johnson County Board of Supervisors and Department of Human Services commemorated her with a resolution of appreciation this week. And hopefully their next order of business is dialing up that remote locale and finding her a bungalow right next to Wonder Woman.