So it seems we are getting ever closer to whatever it is we're supposed to become on the flip side of our collective house arrest. As far as normalcy goes, I'll know we've achieved it when I see Dr Fauci hosting his own talk show . . .
As for the news of the week? The NFL draft shattered all kinds of records seeing as how it was the first live 'sporting event' since the Oscars. Speaking of sporting events, Jay Cutler and Kristin Cavallari's impending divorce will be coming to a cable show near you. Oh, and North Korea is busy going "Weekend at Bernies" on the rest of the world, because the thought of losing Kim Jong Un would just be too much for us to take right . . um, now.
Thankfully, we got heroes . . .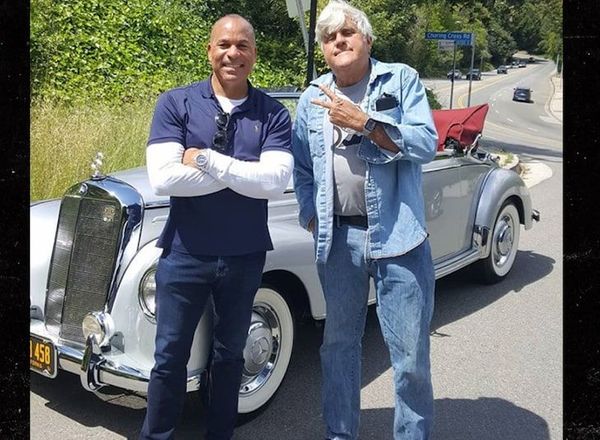 I already knew that former Tonight Show host Jay Leno was a car freak, but I didn't realize he had plenty of heart to go along with all that horse power. Leno has been devoting his garage to another kind of work this month: He's got a couple 3-D printers working round the clock, producing clear plastic shields for health care workers. He delivers them to local fire departments, who then disperse them to first responders and hospital workers.
"It's great to feel like you're part of something and sort of helping out—not just having food delivered every five minutes." He says.
All this time later and the dude is still killing it.
And while we're on the subject of late night talk show hosts, I got some future stock you might want to invest in. The kid's name is Callaghan McLaughlin and he's six years old, so he's already got the jump on a great name and plenty of years with which to hone his craft. Which he's been doing ever since the quarantine went into effect.
In lieu of lemonade, this six year old kid has set up a joke stand at the end of his driveway in Saanich, British Columbia. He charges nada for the jokes, because he wants his friends and neighbors to save their money for the important stuff. But I mean, what's more important than a sense of humor these days? So it's really cool that Ryan Reynolds took notice recently, and sent some props and attention his way. Because when life hands you a lemonade stand, you might as well make sunshine.
With traveling having taken an extended hiatus this spring, there were plenty of petal pilgrims who missed out on the legendary tulip fields in the Netherlands. So in order to give those would be travelers their flowery fix, the peeps at Dutch Daffodils (a family owned flower farm) and Tulips in Holland (a travel blog) teamed up to create something beautiful. The above image is what they came up with. So when you look up the term 'labor of love' in the dictionary, I'm pretty sure that's the pic that accompanies it.
The lovely Dale over at A Dalectable Life chimes in with the story of a high school principal in Graceville, Florida who came up with an ingenuous way to celebrate her senior class. Since Farica West wasn't going to be able to deliver up a graduation for these kids, she decided to do the next best social distancing thing. Yep, she lined the driveway of the Poplar Springs High School campus with each graduating student's photograph in order to commemorate their big day.
"I don't think she could've done it any more perfect, it's a wonderful idea and very thoughtful," said one senior student Peyton Brannan. "Instead of remembering I didn't get the end to the senior year I wanted, they'll remember my picture was right there and my grandma saw it, and my dad saw it, and my mom saw it. I got my picture made by my banner and they'll bring back a smile to their face instead of an empty spot,"
It's a best case scenario to an unfortunate situation, made possible with some creativity and a whole lot of heart and soul.
If you're looking for an adrenaline shot that helps chase away some of the gloom and doom we've been living through, Imma give you Shana Jones. Because her story is about getting knocked down, time and time and time again, and getting up each and every time. It's about how the human spirit is the tallest edifice known to humankind, and its deepest ocean.
Because it's easy to look at all the things you do not get to do and have and experience. That's the easy part. But to just take a moment to be thankful for what you do have? And then, to give something back, from a well that life has bled dry? Well, that's how memorable stories get told. And Shana . . she has one alright.
The woman's life has been its own personal ground zero since COVID-19 began its horrible reign stateside. Jones has lost an aunt and uncle, as well as four cousins, a close family friend and a church member who was like a second mother to Jones. Eight souls, stolen away from her by this merciless thing.
Plenty of people would have locked the door and thrown away the key to the outside world, but not this woman. Instead, she began setting up shop for her friends and neighbors outside of her residence: A couple tables stocked with canned goods, fresh fruits and vegetables, cereal and toilet paper. People were free to take what they needed, at no cost. And Jones did this out of her own pocket, in spite of the fact she has Lupus, and can't work because of the risk factor involved in doing so.
And then the angels, they began warming up in the bullpen for Shana Jones. Whispers became talk became community involvement, and before long, her tables were being stocked with goods by people from the neighborhood . . and all over St. Louis. When her spirits ebbed, these small reminders prevailed upon her to meet every morning with the best she could muster. The thank you notes she receives, they helped too.
"Every time I get a note," Jones said, "I feel that the angel of one of my family members or friends is saying, 'Well done.'"
Amen to that.