(Tunis Campbell- 1812-1891)
As we draw ever closer to a national election no one seems aware is going to be taking place in the fall, I'm rocking some news we shouldn't be ignoring. Of course I'm still digging on the yin and yang of our weekly trend, so you'll pardon me for letting the mulligans swim right alongside the magnifique? Coo . . .
Let's plate it, kids . . .
First up is radio gas bag Norman "Boomer" Esiason. The former NFL quarterback who almost beat Joe Montana in a Super Bowl back in the day (proving that anything is possible) always manages to outdo himself when it comes to saying stupid shit. Boomer recently speculated as to whether big time college athletes were getting COVID-19 on purpose, so they'd be good to go for the fall. This is where I'm supposed to expound on how out of touch guys like Boomer are, but hey . . he did it for me!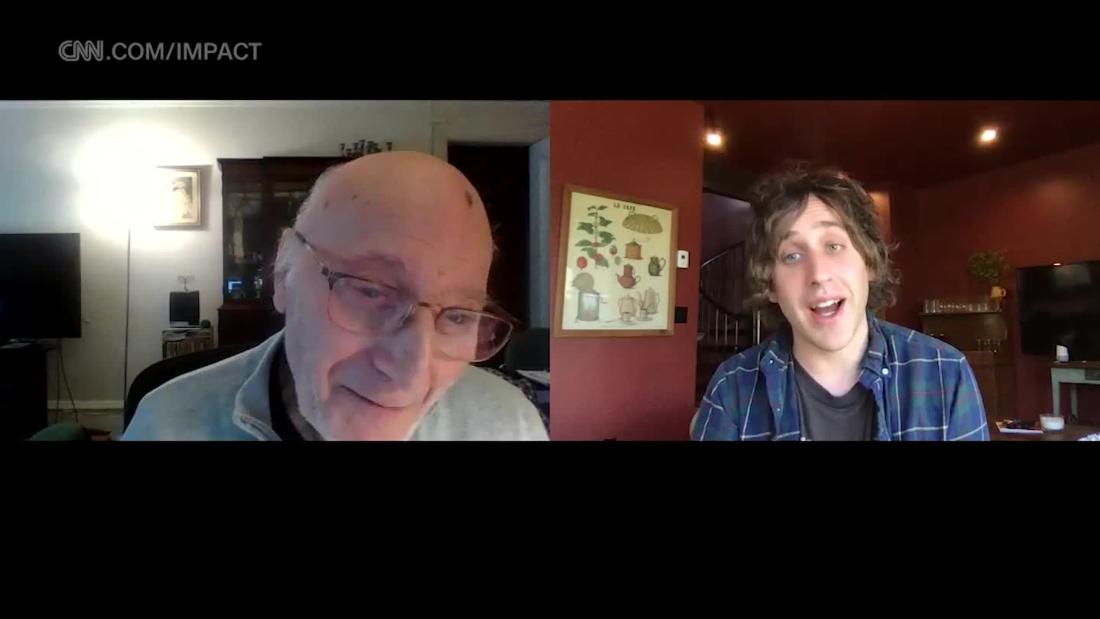 DOROT is a non-profit organization that serves as a bridge for an aging population. It fosters connections, which is a precious commodity these days. Ben Goldstein is a thirty year old volunteer for DOROT, and he's Zoom pals with Robert Brajer- an 82 year old Holocaust survivor. They talk about everything from politics to pop culture while chowing down on lox and bagels. Brajer says it helps to know he's not alone, and Goldstein gets a regular history lesson. That's called win meeting win.
And not for nothing, but DeSean Jackson might have done well to educate himself before posting to social media. Jackson did apologize for his antisemitic comments, and yet that didn't stop Stephen Jackson from doubling down (you read that right) on the subject. The ignorance shown by these two men serves no good purpose as society continues to struggle with the divide created by prejudice. They know better, and society deserves better.
This next story is a twin bill of the forgettable being cut off at the pass by a fantastic response. I'll begin with the former . . .
Michael Lofthouse is the CEO of Solid8- a cloud computing firm out of San Francisco. But it's not his expert acumen that is getting talked about these days, but rather, his Trumpian outburst at Lucia Restaurant in Carmel Valley, California on July 4th. His ignorant fuse got lit when a family had the audacity to celebrate a relative's birthday with song. Lofthouse told them to get lost, but he didn't stop there. After flipping them the bird, he followed it up by calling one member of the clan an "Asian piece of shit," and following that up with "You fuckers need to leave!" before finishing his vitriolic rant by exclaiming that "Trump is going to fuck you!". And it proves to me how wrong I was to think my vote doesn't count come November. Because that opinion will ensure more of the same . . .
So thank God for Gennica Cochran- a server at Lucia- who stepped in to diffuse the situation by telling Lofthouse to hit the bricks. Cochran didn't hesitate to let this asshole know that he had to leave, immediately.
"I felt very protective of them," Cochran said. "You don't come in here and say those kinds of things to people. Especially people feel so raw coming out of quarantine. Most of these people, this is the first time that they've been out to dinner, and then you have someone attacking them, it was just no, no, I don't have time for this."
Go Fund Me pages for Cochran have sprouted up all over the place as a result of her actions. Like flowers, replacing the weed she pulled out.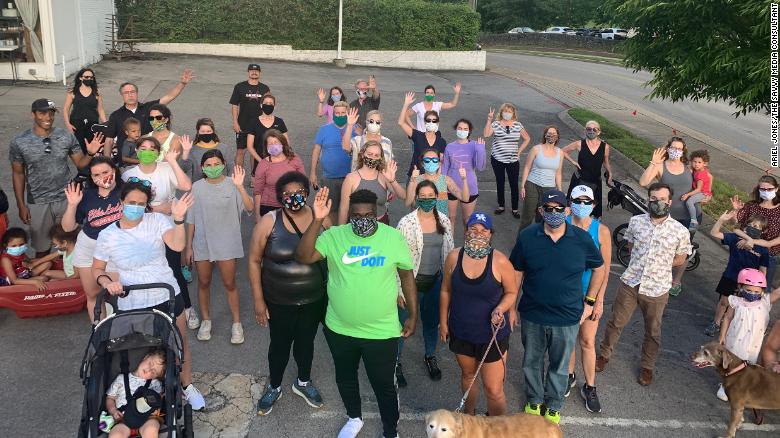 This last story was brought to us by Monika over at Tails Around The Ranch. And it is the kind of story that helps us to see the forest through all these wicked trees. Because to appreciate the differences rather than vilify each other is how we grow those trees that help us breathe in a better reality.
Born and raised in Nashville, Tennessee, Shawn Dromgoole felt like a stranger in his own hometown.
"Once upon a time that entire neighborhood was our family," Dromgoole says. "Years later property taxes ran our people out of the neighborhood, they moved out and new people moved in and all of a sudden we didn't belong. We knew none of our neighbors, which is okay unless you're a Black American."
After Ahmaud Arbery was shot and killed while jogging in Glynn County, Georgia, Shawn says he was afraid to even go for a walk through his neighborhood. Imagine feeling as if you're a suspect . . like, all the time. And so Shawn posted these thoughts on social media, and then his neighbors? Well, they showed up.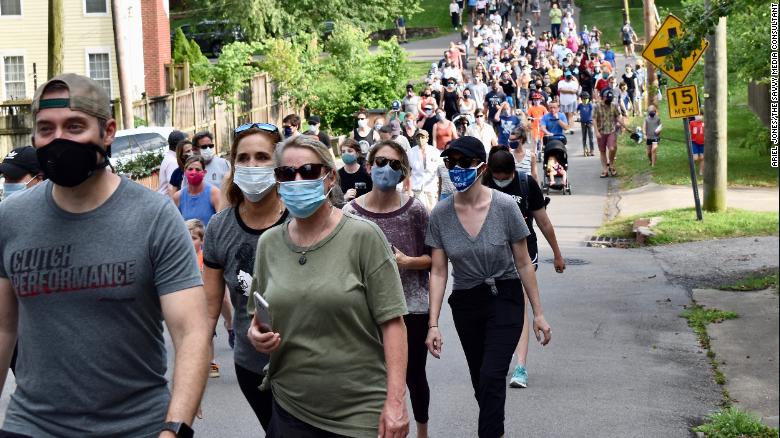 To think how a simple post grew into Walks With Shawn, in which hundreds of people from the area do just that. And to think of the impact one young man's life has had on the community around him. One voice, leading a thousand feet into the kind of movement that has branches. Strong ones.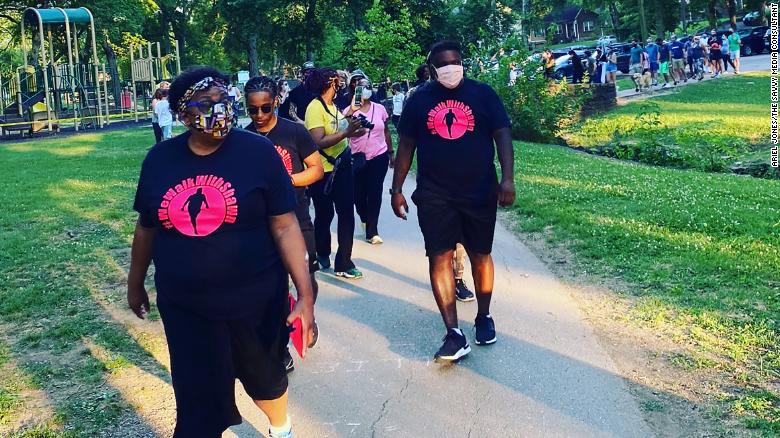 And so now, Shawn is planning on taking this idea on the road. He wants to walk the same streets in Georgia that took the life of Ahmaud Arbery. And Miami Gardens, Florida, where Trayvon Martin was shot and killed. And Cleveland Ohio, where Tamir Rice was stolen by a bullet before his life even got started.
This is a story about how fear drove one young man to find his purpose in life. And what he came to learn was that the differences in us do not require fences or walls. We are better than all those many ugly places we have been witness to over the past few months, and years, and lifetimes.
"I want people to realize that everyone is someone's neighbor and we don't need to be harming each other because of preconceived notions and biases." Shawn says.
It's time to walk the walk, for all of us.