Firstly, a big thank you to the beauty from Boucherville and the Cincinnati Kid for their heroic gets over the last couple of Friday episodes. I tried getting Vera Farmiga to fill in for this week, but her husband still won't let me talk to her. Fucking guy!
So as the 'Convention Edition', I have no thoughts to impart on the blue party bash seeing as how I didn't tune in. The only political story I read this week concerned Cardi B imploring Alexandria Cortez to run for President. Which means Cardi ain't been paying much attention to what happens when you let a reality television star run the country. And for the record, I was the first to nominate Kamala Harris in this post. If it happened to inspire Joe's decision, well . . you're welcome America.
And now here's the lineup . . .
May the ghost of the late, great Glenn Frey forgive me for bogarting his double barreled classic of a line . . but Imma start on the cheating side of town with this first story.
Bill Baptist is a professional shutterbug out of Houston who has worked with the hometown Rockets for more than thirty years. Which is a pretty cool gig when you consider how he's rubbed elbows with NBA royalty: From Clyde Drexler, Robert Horry and Charles Barkley to Yao Ming, Kenny Smith and Hakeem Olajuwon. Baptist lost his cool club credentials over a recent Facebook post in which he referred to Kamala Harris as a 'Ho'. After which he apologized (of course) and insisted the post "does not reflect my personal views at all". This is the first rule of online fight club: Never admit you meant what you meant.
A quick shout out to Houston Astros pitcher Zack Greinke. The Hall of Fame bound righty ain't hiding in the sign stealing shadows of his band mates when he can have some fun with it instead. In a recent game against the Giants, he called out the pitch he was throwing, and still dominated. That's some pretty cool old school if you ask me.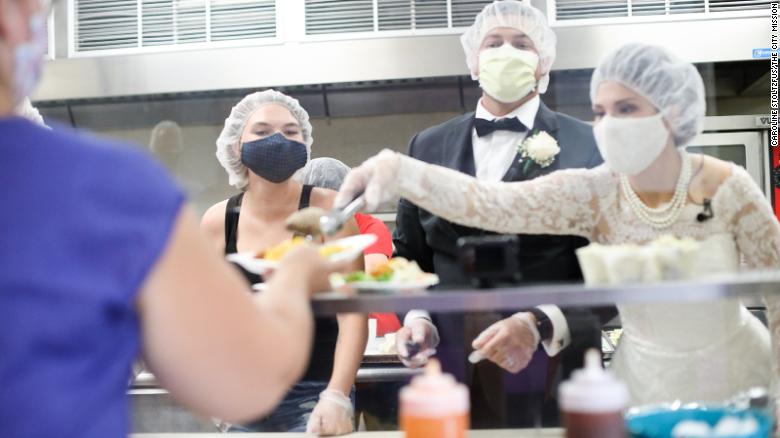 Tyler and Melanie Tapajna of Parma, Ohio had planned on a kick-ass wedding reception replete with DJ, catering and one hundred and fifty of their closest peeps. And then COVID happened. Undeterred, the couple decided to donate the food that would have been served at the reception to Laura's Home, a local women and children's shelter.
"It was really either have the big wedding or donate the food," Melanie Tapajna said. "We were actually kind of excited I think more about donating the food than being stressed during the wedding."
There's lots of good feeling takeaways to this story, from the decision to donate the food, to the caterer they used- Betty's Bomb Ass Burgers- to how they showed up in their matrimonial swag to dish up their donation. And hell, I don't have to condone marriage in order to wish these kids all the best.
And a double edged dagger of dumb to Eric Trump for tweeting about how "terrible" the DNC was. Why the hell was he watching the DNC in the first place? Is Duck Dynasty on hiatus? And not for nothing but the twitterati that went after ET can pipe down too. He's a putz, we get it. Y'all are giving him exactly what he wanted by spending the night trashing him.
Officer Erika Urrea of the Lodi Police Department in California's Central Valley, is a YouTube star. Not because she can toss back a dozen hot wings inside a minute or flip a water bottle and nail the landing. Nope, she's a viral vixen for having fulfilled her job requirements of protecting and serving. In this instance, she was coming to the rescue of a sixty six year old man whose wheelchair had gotten stuck on railroad tracks. Urrea spotted the man and pulled him to safety moments before the train would've crushed him. And this morning, she ain't getting a ticker tape parade. Instead, Urrea will get up and do it all over again. So to her, and to all those heroes in uniform who show up every single day, I say thank you.
Shout out to the San Diego Padres, who will only use cardboard cutouts of friends and family members at their home games. While most clubs are charging a fee for the cutouts- to which most if not all net proceeds go to charity- the Padres are keeping it in the family. I'm always dubious of clubs and leagues that get involved in social matters, because let's face it, they ain't got room to be playing pious. Good for the Padres in keeping things simple.
Fifteen year old Joseph Beer has two things going for him: A great last name, and an even greater sense of pride in his community. So it was that while on a walk with his mother, the kid noticed how his neighborhood's aesthetics were leaving a little to be desired as a result of the lock down; from dirty street signs to overgrown shrubs. Beer got to stepping, scrubbing signs and trimming hedges just about every day. One neighbor was so impressed with his efforts that she set up a Go Fund Me page that has raised almost 1,000 pounds for him thus far. Mister Rogers would be proud.
A giant nea to Mike Lindell, founder and CEO of My Pillow, for going on CNN to spout nonsense about olenandrin as a miracle drug for COVID-19 patients. And an equally giant yea boss! to Anderson Cooper for calling Lindell on his shit. He pointed out how Lindell has a financial stake in the company and compared him to a "snake oil salesman". Love it, AC.
Perspective is something I talk about often. And man, I've summoned it up more times than I care to remember over the past six months as we continue on inside this retrofitted existence as the result of COVID-19. And then I find a story that learns me a lesson, with dance moves to boot.
There's never been a sense of normalcy for little Blake Sheffer. He was born prematurely and shortly thereafter began experiencing seizures that resulted in him spending too much time in the ICU at Children's Healthcare of Atlanta. When he was just a newborn, his mother Lauren found him laying motionless in his bassinet. He was diagnosed with Supraventricular Tachycardia (SVT), which is a condition that causes him to have an abnormally fast heart rate. As if all of that wasn't enough, little Blake also has a blood disorder which must be monitored regularly.
In his one year on this earth, the team at Children's Healthcare has saved his life twice. And this amazing team has become an extension of a little boy's life in the process. Because in spite of it all, the kid is a social butterfly who loves laughter and music, and dancing too.
When Quanda Riles heard about the little guy, she just had to fill out her dance card and partner up with him. The Environmental Services Technician at Children's knows adversity first hand, as she suffers from a severe case of glaucoma which will one day take her eyesight. In the now, these two have formed a simpatico whose daily promise involves music and dance moves, and it's inside the moments they bring to life where we can find perspective. A humbling reminder not to waste time being wistful about the things you miss.
Be thankful for the things you have.