As we inch closer to a national election that feels as if it was written by Judd Apatow, I thought about petitioning for a recount on my last Heroes episode. And then I realized that I didn't actually use a political theme for the post, so never mind. And for the record? I'm voting for Bobby Newport in November. I'm half serious about that, and as Bobby would say, the other half is serious too. 
So now that I've gone two straight Heroes episodes without having talked politics, and my reward is an actual theme to gift you this week. The lovely Dale is playing Luke Skywalker, seeing as how she sent me three heroic stories this week. While I pick up the slack for Darth Vader by supplying the zeroes. I know, shocker!
And now for this week's lineup . . .
Up until this moment, the Tampa Bay Rays have been that other team in every baseball movie. They're a monochrome curiosity that is good enough to take the champion fifteen rounds, before getting steamrolled by the closing credits. But now they have a club with a legitimate chance to win it all, and so maybe their manager Kevin Cash should start behaving as if he's been here before. The Rays skipper got all bent out of shape after Yankees closer Aroldis Chapman threw a a hundred mile an hour missile at his player's head. Cash and his team have every reason to be pissed, but then he went and said this . . .
"Somebody's got to be accountable," Cash said. "And the last thing I'll say on this is I got a whole damn stable full of guys that throw 98 mph. Period."
How about you make the MLB do it's fucking job. Make sure they hold Chapman and the Yanks accountable. But an outright threat such as the one Cash threw out serves no good purpose. If he'd chosen his words wisely, the onus would be entirely on the Yankees, but Cash went minor league instead. That's a shame. 
Like any responsible homeowner, Dave Phoxe of Salt Lake City, Utah does what he can to keep his home and family safe from harm. He installed a security camera that syncs to his phone, alerting him to any uninvited guests who make the scene. So when he discovered that a little kid was using his driveway as a racetrack, he could have stormed outside and told the kid to scram. But Phoxe had a better idea. And so he made his driveway into a racetrack, drawing a lane that zigged and zagged to a finish line. Something tells me he's got one hell of an encore for the kids who play on his lawn when he's an old man.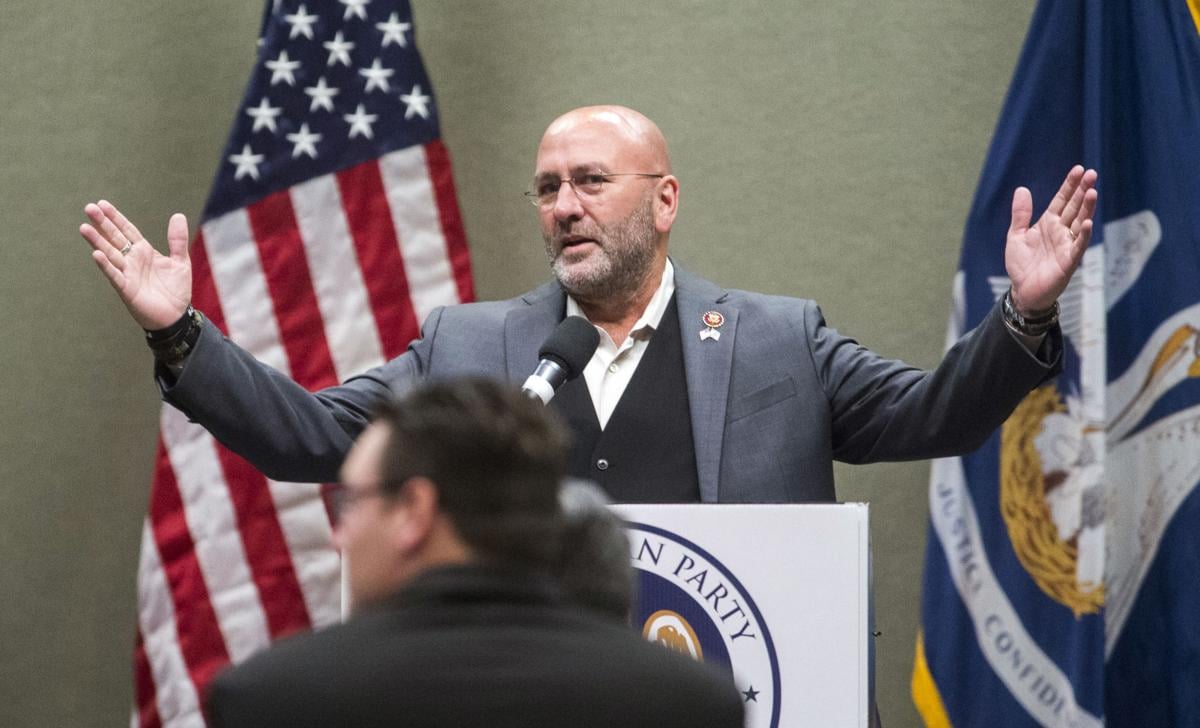 Congratulations to Clay Higgins, the U.S. Representative out of Louisiana's third district for taking the prize as biggest asshole of the week. No easy task these days, and yet Higgins makes it look easy with commentary that would make a serial killer wince. 
Higgins hopped on Facebook this week (This is what's called foreshadowing) and proceeded to shit his feelings into the virtual world. His topic of conversation in this instance were the armed protesters showing up across his state. And for those of you with an allergy to ass hats with Rambo fetishes, you might want to move on to the next story, because the following is a sample of his rant. 
"I'd drop any 10 of you where you stand," Higgins began, before continuing with "Nothing personal. We just eliminate the threat. We don't care what color you are. We don't care if you're left or right. if you show up like this, if We recognize threat…you won't walk away."
I mean, where do I begin? Okay, maybe with an observation that goes something like this: Old Clay wasn't posting shit like this on FB when white kids in PBR caps were walking through Wal-Marts fully armed. So yanno what I always say . . . there is that. 
Okay, so I lied. Imma dish up a tribute to an all time great who was a hero to every Queens kid back in the days of bell-bottom jeans and 8-track players. Tom Seaver blessed the game of baseball in myriad ways over a career that spanned three decades and five cities. He won 311 games to the tune of a 2.86 ERA in that space of time. He snagged Rookie of the Year honors in 1967 and was the ace of the Miracle Mets World Series team in '69. He was a Cy Young winner three times over, an All Star twelves times and he pitched a no hitter as a member of the Cincinnati Reds in 1978. But as a man, he contributed even more than that. He was an ambassador whose grace, wisdom and experience has left a lasting impression on the game he loved. They really don't write them like Tom anymore. 
Okay, for this last story Imma do things a little differently and just let author Shaka Senghor take us home. In his words. Because I could not have said it any better than he did on his Facebook post.
Last Friday night I was standing outside of a barbershop in Cincinnati, Oh,with a small group of mostly black men, when this officer walked over to a group of us. He looked around curiously and said "I don't see a car blocking an intersection" while shaking his head. I asked him what was he talking about. He said someone called and reported that we had a car blocking the intersection. He paused for a minute and shook his head again. In that moment we both nodded and acknowledged what had just happened. Someone basically saw our group and made a false report. I asked him how long he had been on the job and he said 10 months. He asked what we were doing at the barbershop and so told him about the barbershop challenge Men of Courage and Ford Fund has sponsored. I asked if he wanted to come inside. He said he wanted to, but didn't want to spoil the fun with his presence. Again we both nodded and acknowledged the reality of distrust between the community and police officers. I offered to take him inside so he could meet the owners and establish a relationship. I told him that someone has to take the first step to healing these relationships. He said he wanted to, but was unsure of what the reaction would be. I told him it would be cool and that Jerome Bettis and a host of other amazing people were inside. He lit up like a light bulb and said "No way The Bus is in there", with a kid like smile. I said hold on, I'll grab him and have him come out. Jerome Bettis came out and the officer stood there with his mouth agape before saying "if my dad was still alive he would be so excited, because you were his favorite player". We all stopped and sat in the moment before they went on to take a selfie together. It was one of those moments that reminded me of our humaneness, our frailties and our similarities. In that moment we were all just men navigating the world without the mask we are taught and trained to wear. I could have taken my offense to the call out on the officer and accused him of being a racist cop. He could have believed the caller and acted based on stereotypes about black men in groups. But we chose to just see each other and talk like humans. It's ultimately a decision we can all make. When he lit up like a kid at seeing his dad's sports hero, I saw a little boy and the uniform no longer mattered. We can collectively choose to see beyond the uniforms we all wear.
It's not easy and there is a lot of work to be done, but if we can at least start seeing each other, I believe things will get better.