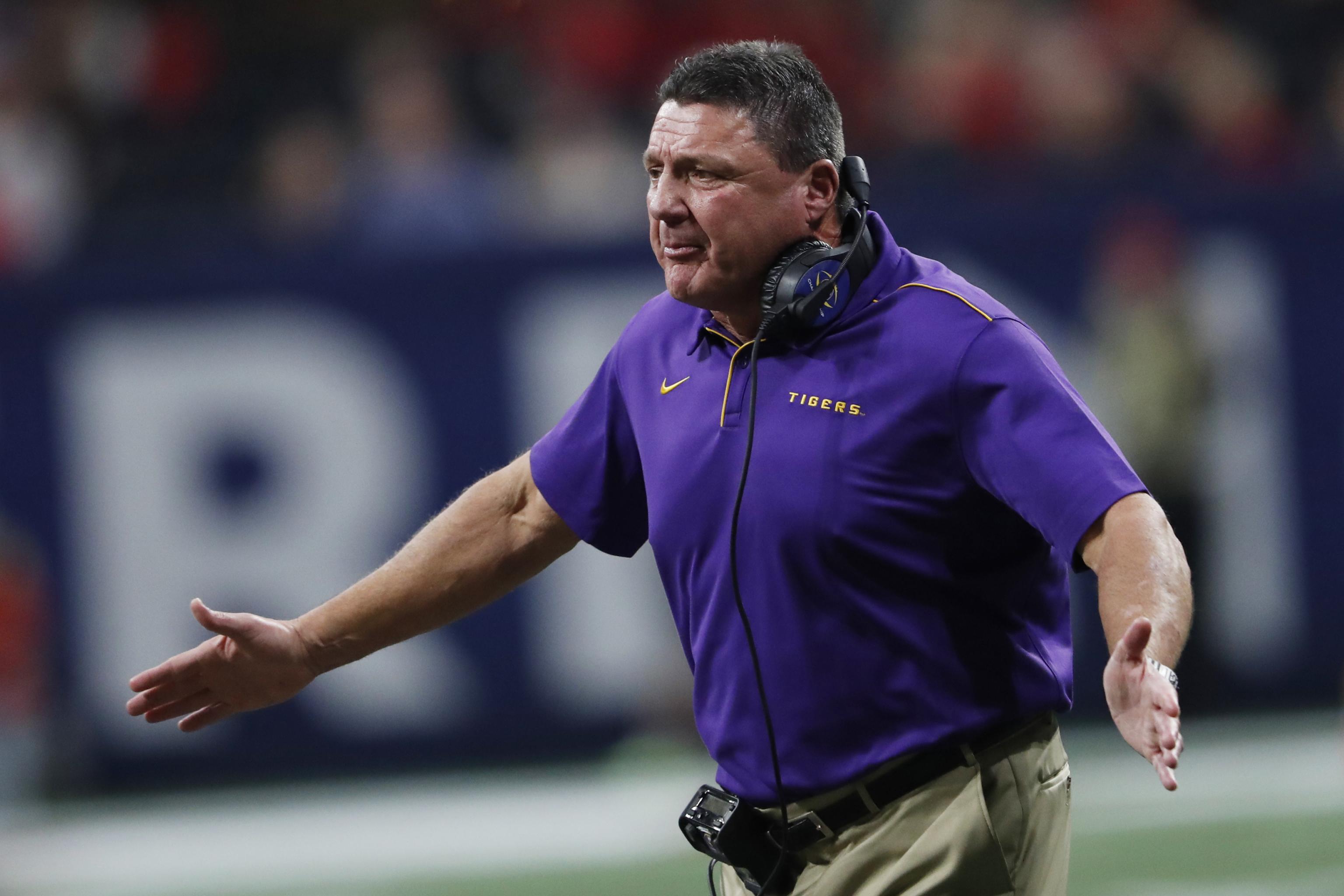 Win at all costs.
The world of college sports has taken that refrain literally, and boy, do they have a rap sheet Al Capone would be envious of. From back room cash grabs to academic cheating scandals to recruiting high risk players whose criminality is then aided and abetted by coaching staffs, administrators and high profile boosters. College sports means never having to say you're sorry, so long as you keep winning.
And when the worst laid plans get even worse, we get the same tired, old lines about how they failed to live up to their stated goals of producing quality "student athletes", some of whom wouldn't be able to find the classrooms with a GPS. The powers that be will express regret while at the same time insisting they never saw trouble coming, honest. As if they truly believed all those high risk/high reward cases they were chasing would miraculously transform into law abiding citizens when given the chance to play for a platinum program.
Next up is Ed Orgeron. He's less than one calendar year removed from having been the darling of the college football world, after presiding over a powerhouse LSU team that tore its way through the toughest conference in the sport and then laid waste to all comers in the college football playoffs. Coach O had lived the life of a football nomad, moving from one gig to the next with little chance of ever being the grand poohbah. Until the Tigers gave him that one last chance at a head coaching position, after which he rewarded them with an undefeated season and the fourth national title in the school's history.
There was nothing not to like about Orgeron. A combination of Ward Cleaver and Forrest Gump; a hard working lifer whose legs kept running until they found the right kind of somewhere. In a landscape that ran the gamut of forgettable; full of boring corporate kings like Nick Saban and snake oil salesmen like Bobby Petrino, Orgeron was different. Here was an affable guy with a booming, gravelly voice whose story of perseverance was downright charming. He had made the most of his one last chance, and we figured good for him, and for college football. And then we were reminded, once again, that college sports really has no rock bottom.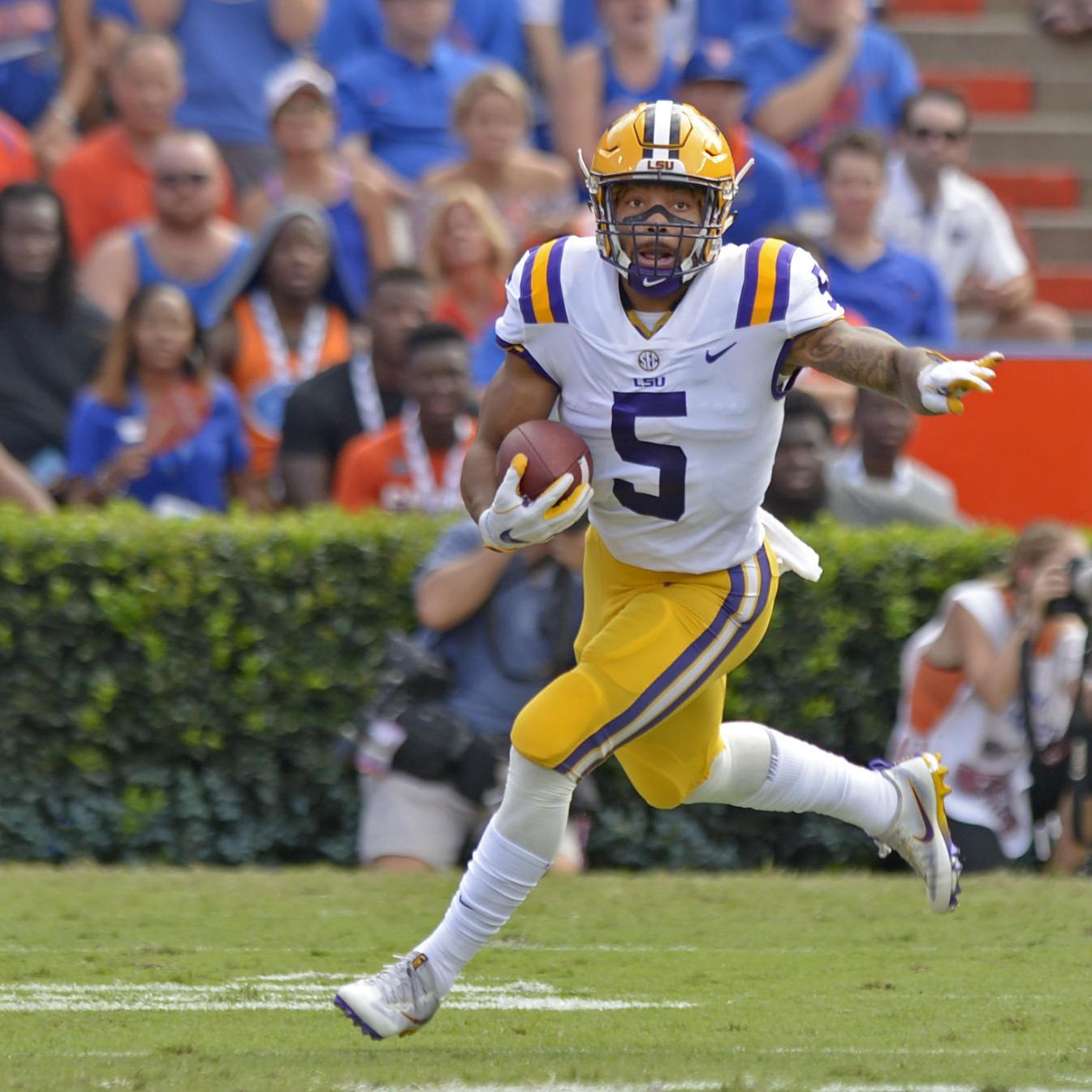 USA Today reported this week that former LSU running back Derrius Guice was accused by two women of sexual assault on two separate occasions while playing for the Tigers back in 2016-17. LSU officials, including Orgeron, did nothing about these allegations, and Guice continued playing without so much as an investigation into the matter. A serial abuser of women, Guice recently was cut by the Washington football team after being arrested and charged in three separate incidents of domestic violence.
Then there's Drake Davis, whose on field exploits pale in comparison to his criminal rap sheet. The highly recruited wide receiver- one of those high risk gambles that football schools like LSU can always make room for- was suspended for one year after assaulting a woman- he punched her multiple times. They were given no choice in the matter after he was arrested on multiple felony charges.
In the last half decade alone, Guice and Davis were far from the only menacing threats on campus. Peter Parish, a backup quarterback, was also suspended for one year after being accused of raping a woman in a car this past winter. Running back Tae Provens, linebacker Jacob Phillips and tight end Zach Sheffer have also been accused of rape in separate incidents. Safety Grant Delpit was accused of recording a woman during sex and sharing the video without her knowledge. None of these men were charged with a crime because the school never even bothered to investigate.  Defensive linemen Davon Godchaux and Ray Parker are alleged to have taken part in what the university referred to as "dating violence". School officials were not forthcoming on whether the two were disciplined, citing "privacy interests".
When tasked with doing the right thing, the university has stayed on brand by doing the absolute worst thing: They ignored these young women. Never mind that their inaction violated school policy, not to mention local and federal laws. And never mind that such blatant disregard for the safety and well being of these young women can never be undone.
LSU declined to make its coaches and administrators available to USA Today, but no worries because they did put out a statement looking to assuage any concerns that parents or the female population on campus might have.
"We are unwavering in our commitment to respond promptly to any reports of misconduct, to investigate these reports in a manner that is fair and equitable, to support victims of sexual assault, and to protect the privacy of our students according to the law," the statement said. "Putting an end to sexual assault is an institutional priority, and we are constantly working to achieve that goal."
So basically, if you're a woman on campus trying to get an education, do yourself a favor and enroll in self defense classes. And hire a bodyguard while you're at it. Just in case those institutional priorities suffer another massive breakdown. And if you can't work that into your schedule or budget, you could always transfer. Because let's face it, the Tigers have a power brand to sell. And all the statements in the world don't cover up the fact that they aren't sorry for having gone rogue.
They're only sorry they got caught.