Welcome to the intersection of Friday and good times, as we get ready to raise the roof with yet another roster full of mostly good, with just a touch of grumble. The former allows us the inspiration that is oftentimes found in the most hard to reach places. The latter provides us the necessary perspective by letting us know that the journey has obstacles, but that they won't alter our destination. Not one bit.
And now to the lineup . . .
First up is yet another front line worker who was called upon to serve, and rose so far above the occasion, the FAA should've been called in. A vaccination program being conducted at Seacoast Church in Mount Pleasant, S.C. ran into computer issues, resulting in massive delays to their line. So Mayor Will Haynie called in a guy who knows how to work lines like nobody's business. His name is Jerry Walkowiak and he's the manager at the local Chick-fil-A. He was able to cut the wait time from one hour to fifteen minutes.
"He actually got there before I did," Haynie says. "He was standing there. He was moving people along."
That's what's called thinking outside the Styrofoam box.
Dale from A Dalectable Life has solved the riddle with this next story. You know why Canadians are renowned for their world famous 'nice' gene? Because you can't spell nice without the ice. And so what do a bunch of motorists do when they're stuck in traffic on Highway 40 outside of Montreal? They start a pickup hockey game, of course!
A 75 car pile-up closed the road for several hours, so rather than sit on their hands and listen to Welcome to the Jungle twenty seven times, they took to the ice and dropped puck. With nowhere to go and all day to get there, these peeps made a stretch of frozen road their own personal Montreal Forum (Sorry, but it's always going to be the Forum to this American).
Let this be a lesson to you, kids. When life hands you lemons, grab your hockey sticks and play.
We head back to the Association for this classic, and nope, it's not Kyrie again. This next story involves Juliana Carlos. You might be asking who? And you're not alone. I'm STILL wondering who in the hell this woman is and I READ the article. She's a pseudo-curiosity who appears on Real Housewives of Atlanta, and really, can someone please explain to me what purpose these shows have? I mean, other than keeping P.F. Chang's in business?
So Ms. Carlos and her husband started hurling obscenities at Lebron James when the Lakers were in town this week and that right there is her claim to fame; being included in the same sentence with Lebron James. To her credit, Carlos has since apologized. Like, a real deal apology where she owned her shit. But since I wasted thirty seconds of my life reading this article, I figure you guys can too.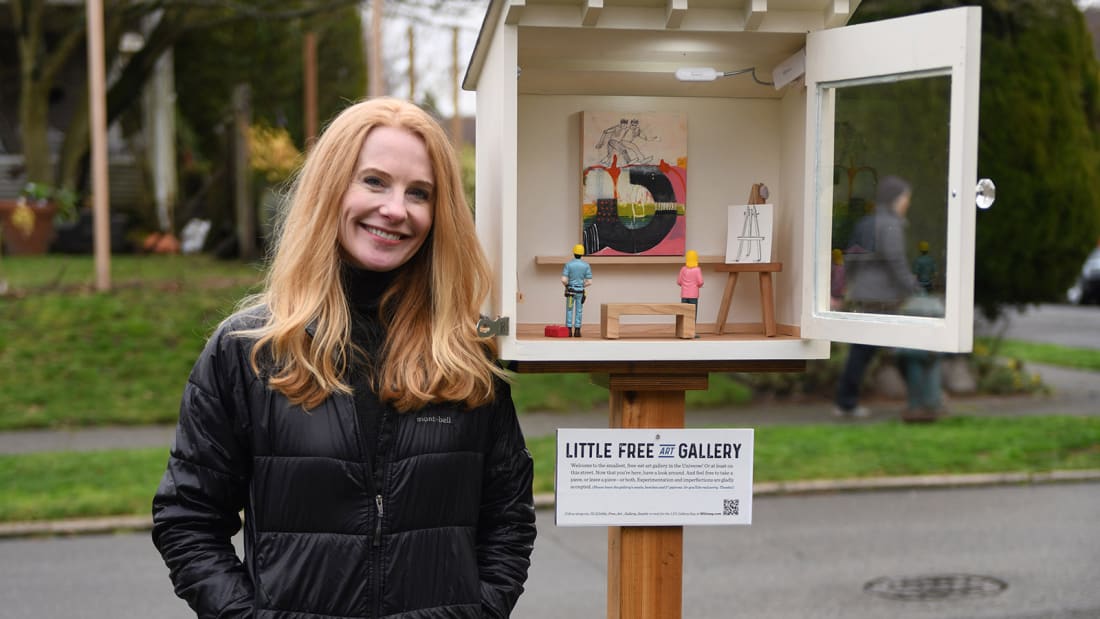 Thank God for art, and artists. Without which, the world would be a monochromatic wasteland befitting Orwell's worst nightmares. Stacy Milrany is proof of God's existence, in loving color. The Seattle artist has taken to gifting her neighborhood of Queen Anne with a miniature art gallery. Her first "show" was in December, with a painting she titled "Cat Hair".
The idea was inspired by the Little Free Library, which offers book-sharing boxes. Milrany's gallery is also an interactive sharing space where people from the neighborhood can connect. She says the idea was born out of a need to fill the void left by a pandemic. Neighbors are encouraged to take art if it speaks to them, which they have done. Others have left art, even though it is not a requirement to do so. In a month's time, more than 100 works of art have gone on display.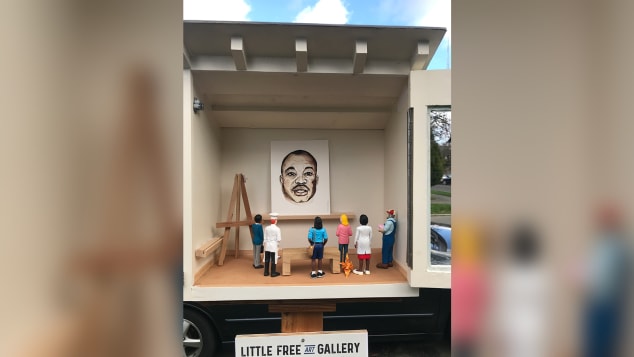 "It makes me feel like I'm helping in some kind of way, especially at a time when loneliness multiplied in the past year because of the pandemic," Milrany says. "It's getting people to go out to see what their neighbors are contributing, and people who put their own artwork that gets claimed know somebody has enjoyed their little masterpiece."
Van Gogh believed that great things are accomplished when small things are brought together. There's a neighborhood in Seattle that's proving him right.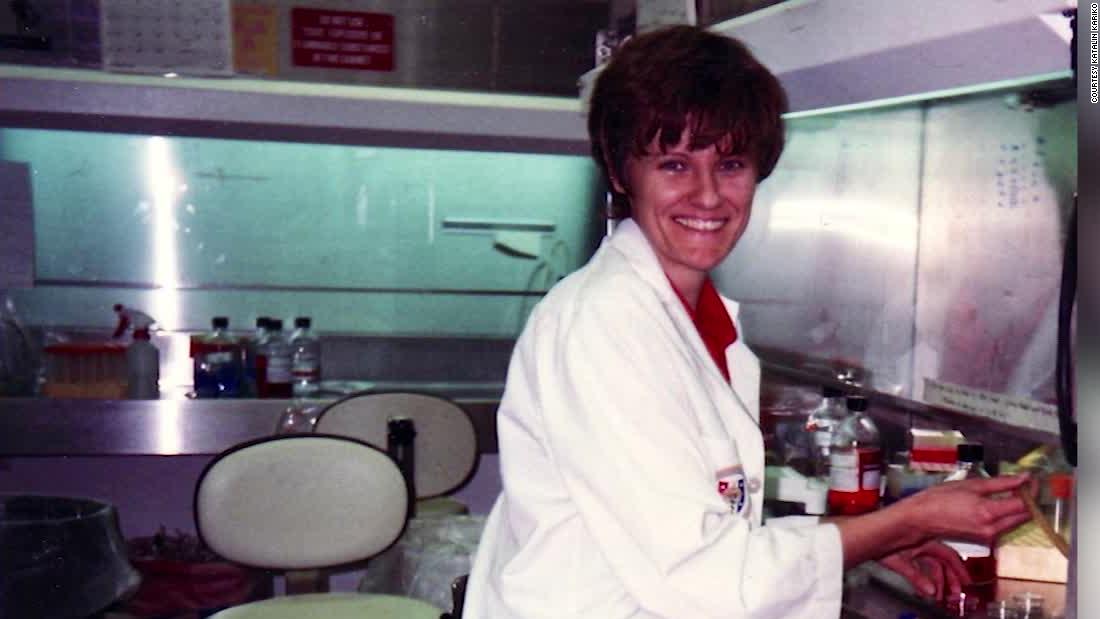 I'm icing the top of this too cool for school cake with Katalin Karikó. And if you don't recognize the name- I didn't- it might be time to read up. Because it's in thanks to the dogged persistence of this biochemist that there is a COVID-19 vaccine.
When Karikó arrived in this country, she had $1,200 to her name. As with so many immigrants, she also had a dream. It was the kind of dream that only gets to stepping once you roll up your sleeves and put in the time to achieve it. Brilliance is nothing without persistence, and when you add compassion to that mix, well, that's where people like Karikó come from.
She spent decades developing mRNA and RNA technologies that have become the foundation for countless life saving treatments. As a result she's received more than 12,000 academic citations.  But this senior vice-president of  the German pharmaceutical giant BioNTech didn't get to regale in a cupcake party procession to get to this day.
In the mid-eighties, she transferred to Penn University to continue her research. It should have been the next big step in her journey but instead it became a period fraught with so many obstacles that she began to doubt herself. The research she had made her life's work was considered too risky, resulting in one failed grant application after another. She spent ten years trying to break through that wall and her reward? She was demoted. Shortly after the demotion she was diagnosed with cancer.
Things began to take a turn when she found a kindred soul in Drew Weissman and she was finally able to receive a patent for her mRNA technology in 2012. After butting heads some more with the suits at Penn, she took a job with BioNTech, For all her brilliance, persistence and compassion, she might have a Nobel Prize waiting for her at the end of all this but she's not content to celebrate until the pandemic goes rearview. And so this is the part of the story where yours truly is going to editorialize just a tad bit by pointing out that the vaccine for COVID-19 was brought to market by immigrants. Immigrants whose allegiance is not to any one country, but to the world.
What a concept.