Okay, can you tell I'm super excited about the upcoming Congressional UFO report that's going to prove Mulder was onto something? The above capture, like the current news cycle, isn't genuine . . but it's all Obama's fault for admitting this UFO business really is a thing! And so I have a deal for any aliens who might be reading this Friday edition. Leave us be and we'll give you Marjorie Taylor Greene, the Cleveland Cavaliers and anything Jim Belushi ever starred in. And to balance the books, Imma throw in Nancy Pelosi, the Detroit Tigers and the original script from Cop Rock.
Let's get to Friday . . .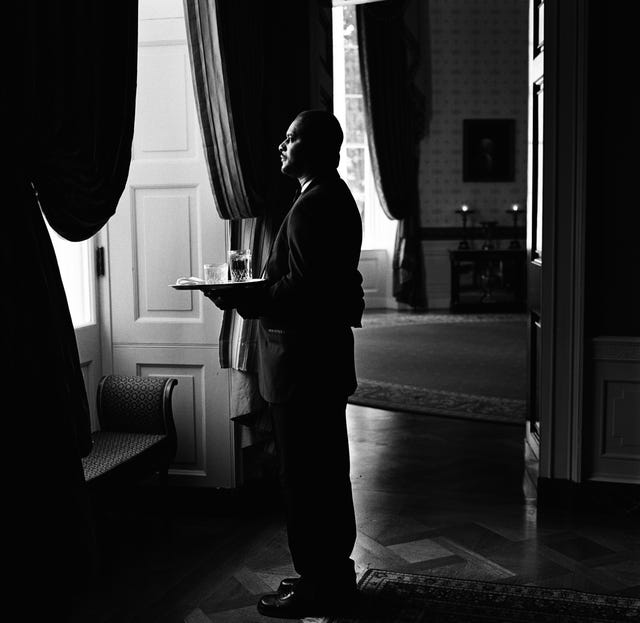 We're kicking things off with a Cincinnati Special, delivered by our favorite Beach Boy, Frank, who does his thing over at Beach Walk Reflections.
An American Story: When it comes to having his finger on the pulse of a nation, Buddy Carter has achieved a doctorate level knowledge over the past half century. As a butler on staff at the White House executive residence since the Reagan administration, he has seen it all. I mean that literally. He has suffered Reagan's corny jokes, he's served coffee to the Clintons, kept a close eye on W's pretzel habit and most likely was the treated to Obama's pipes whenever 44 laid down some Al Green in the hallways.
He was the man with a plan when it came to state dinners, or when a foreign dignitary came calling, or whenever the leader of the free world just needed a moment to vent. He attended the weddings of Chelsea Clinton and Jenna Bush, among many others. He accompanied First Lady Melania Trump to the funeral of former First Lady Barbara Bush in 2018. Such was the bond Buddy fostered with everyone he crossed paths with.
"For 47 years, across 10 administrations, Buddy Carter has been an integral part of the lives of US Presidents, their families and their home, the White House," said Michael LaRosa, press secretary to First Lady Jill Biden .
Thank you Mr. Carter, from all of us.
Coup Coup For Cocoa Puffs!: What if I told you a former National Security Advisor of the United States advocated a military coup? Well, if he was a democrat, Mitch McConnell and the Gang That Can't Shoot Straight would demand he be locked up . . immejiately. But seeing as how Michael Flynn is Trump's errand boy, they'll probably run him for President in 2024 . . .
Lost Footage from "The Revenant": Hailey Morinico's "To Do List" for the Memorial Day weekend . . .
Grocery shop
Fire up the grill
Fend off an Apex predator
About that last item on the checklist . . the 17 year old from Bradbury, California nailed it. More specifically, she nailed a big ass brown bear . . get this . . who was toting her cubs. Which goes against every rule Ranger Smith laid out in his diminutive tome, "Don't Fuck With Bears".
However, this particular brown bear mama was going up against a fairly tenacious dog mama, so there was that. And the video serves as the tail of the tape in this knockout upset of the week, as Morinico came to the rescue of her fur children by doing what Leonardo DiCaprio? Couldn't.
I'm only excited because this shit happened in the eighties: After thirty-five seasons on the shelf, the USFL will make its return next spring. The original version was fairly successful as a spring football league, until they attempted to move to the fall . . which is owned by another well known pigskin property. The USFL will compete with the XFL for viewers, but if the former is half as much fun as it was in its three seasons of play, I'm betting on vintage for the win. Which means they'll last a season to the XFL's three weeks . . .
I wasn't going to include this next story because the look of dejection on this homeless woman's face in the above video was too sad for words. But you know what? If my Fridays are about mining the gamut, then it really is about the every single thing of a world that makes us rejoice one day, while bringing us to our knees the next.
And what's more, it's how I'm signing off on this episode . . .
Officer Conner Hjellming of the La Crosse Police Department was responding to a police call regarding a shoplifting incident at a Walgreen's store back in December when compassion took the wheel. What he found was a young woman at the breaking point. She wasn't stealing candy bars or cosmetics, she was stealing a pair of gloves and a hat to keep warm in the sub-freezing temps. So Conner let her have it. The gloves and hat, I mean. While warning her to steer clear of the store from now on, he paid for them. And so Connor's job description, in which he promises "To Serve and Protect", well . . mission accomplished.
And if you're an alien reading this Friday episode, Imma give it to you straight. Don't let the fact that we're treating this beautiful place like a cosmic ping pong table fool you. Because inside this seemingly hopeless cause, this lost paradise of dreamers and this playground of schemers and this chain of fools, there is love. There is so much of the stuff that it could fill the oceans and the lakes, and the rivers and the streams and the kitchen sinks of every living soul. That's 326 million trillion gallons of the stuff, for your information.
And maybe that's what you're here for. Maybe you figure we've screwed up our chance, so why not take our dibs. I'd like to think you're so far advanced that conquest doesn't rate, but who am I to know for certain? And it doesn't matter anyways, because I'll take the look on that young woman's face when she realized that there was someone out there who actually cared enough to make the day she was walking through just a little better. And just so you know?
We have more where that came from.