Imma supply you with a quick heads up to let you know that I will be stepping away from WordPress for a week, as in zero-dark nada. Next Friday will keep on keeping on though, thanks to Frank "Beach Walks" Angle, who will be guest hosting for me. Big thank you to Cincy for his pinch-hitting prowess, and big hugs to all my Friday peeps who keep me coming back for more with your wonderful thoughts.
And a tip of the hat to the lovely Dale at A Dalectable Life as we begin this episode with track and field superstar Allyson Felix, whose exploits in the arena only tell half of the story. The thirty-five year old Felix is the most decorated Olympian in the history of track and field- 6 golds, 11 overall- which is a remarkable achievement when you consider the names that have occupied that universe. But it's her role as super mama that finds her on our podium.
When her relationship with Nike was not extended, it was a slap in the face to the woman who had given the company so much. The swoosh refused to make accommodations to an expectant mother, instead offering her a 70 percent pay cut as their way of saying thanks. It didn't get any easier for her at the first World Championship meet after giving birth. She was assigned a roommate even though she had requested her own room since she was breastfeeding and didn't want to distract a peer who was also competing.
Felix didn't get mad, she simply got better. In 2019, she wrote an op-ed for The New York Times in which she talked about her treatment by Nike- "I was tired of asking for change. I knew I had to create it,". In June, she announced the launch of her own footwear company, Saysh. She has also created a $200,000 fund to pay the cost of child care for moms competing in the Olympic and Paralympic Games.
Here's to winning the right way.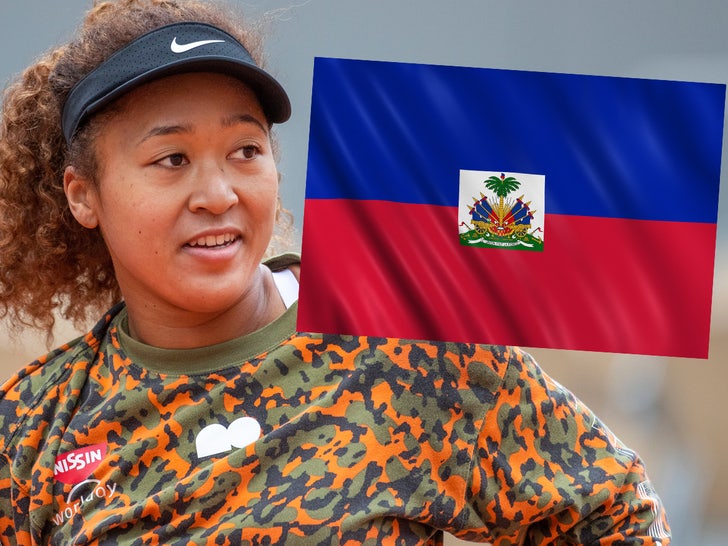 Naomi Osaka has announced she will be donating her earnings from a recent golf event to the relief effort in Haiti.
"Really hurts to see all the devastation that's going on in Haiti, and I feel like we really can't catch a break," she tweeted. "I'm about to play a tournament this week and I'll give all the prize money to relief efforts for Haiti. I know our ancestors blood is strong we'll keep rising."
A 7.2 magnitude earthquake hit the island nation last week. It has claimed at least 2,000 lives thus far with officials estimating that the number will rise drastically in the days and weeks to come. To make matters worse, tropical storm Grace's arrival has further hampered rescue efforts.
Ms. Osaka is putting her money where her heart is, and bless her for doing so.
Jaylo Miles knows that the worst part about hitting rock bottom emotionally, is that return visits are commonplace. Mental health isn't a sometimes thing, to maintain and to overcome requires a daily regimen for those affected. Which is why Jaylo loves climbing mountains; because it speaks the right language when his soul really needs to hear it.
And when you have a climbing partner like Jaylo's pal Louie- a PTSD owl- it makes the journey that much more fulfilling. The father of three has set up a Facebook page Many Downs, Time To Get Up. It's a community where Jaylo and others share their mental health stories and connect for challenges and meet-ups. "I have built this page from a desperate battle with my own mental health and suicidal thoughts in the hope to make a difference and leave a legacy to create & inspire."
Mountaintops inspire the soul, but the journey is what feeds it.
Mary and Benjamin are proof that even in the most trying of times, flowers will find their bloom. Theirs grew during the time of COVID, when social distancing and sheltering in place learned us a lesson in perspective. Because it's how these two came to understand that the fence which separated them wasn't a barrier but rather, a meeting place.
Ninety-seven years are tucked between these two pals- Mary is approaching her 100th birthday while Benjamin just turned two- but you'd never know it when they get together. The Minneapolis grandmother says the company keeps her spirit up, since she lives alone and her family is out of state.
C.S. Lewis believed that while friendship has no survival value, it gives value to our survival. These two friends are offering up one hundred and one years worth of validation to that sentiment.
As we get ready to high five another Friday, I've come up with a return visitor to our Friday episode, and in the name of transparency, it' a Vegas winner of a chicken dinner that he's gonna be making yet another appearance . . . I'm thinking by the fall.
Max Woosey, remember him? He's the kid I wrote about back in April (You can read it here) who was camping out in a tent gifted him by a neighbor with terminal cancer. Rick Abbott lost his battle, but Max's family never forgot the efforts of a local hospice in North Devon. They made it possible for Rick to remain in his home to the end, and Max? Well, he remembered that.
Thus began a campaign by the 11-year old, to help out since all the fundraisers planned by the hospice were canceled during the pandemic. Max took his tent to the backyard and began a one kid fundraiser with the goal of raising 100 pounds. At the time of my original posting, he'd shattered that goal and had collected more than five hundred thousand pounds.
Reading back, I mistakenly wrote that Max was camping out in a sleeping bag when it's actually a tent. But truth be told, it wouldn't matter with this kid, who was determined to sleep on a blanket if it came to that. He's had company a time or two. His dog Digby is a regular and his father stayed with him during Storm Bella as they braved 70 mph winds. He had to replace the old tent when it sprang a leak, but through it all, he's still going strong.
He recently passed 500 days and the tote board is still smoking, currently sitting on 770,000 pounds. His goal achieved long ago, he's got a million reasons to keep this thing going. And no, I'm not sure that's what the kid from Braunton, England has in mind. But it wouldn't surprise me in the least if he's thinking about it. Even though he could go inside right now, tonight, and his achievement would be nothing short of remarkable. To be this young and this compassionate, it's transcendent. It's a higher power tapping us on the shoulder and whispering, "Hey! I know there's a lot that sucks about the world, but if you're not paying attention to THIS kind of thing . . you're doing it wrong!". And this kind of thing is what Max Woosey is gifting us. His dedication to a goal that keeps on giving is a reminder as to what matters most of all.
When we share the good things inside of us, we get to hold forever in our hands.